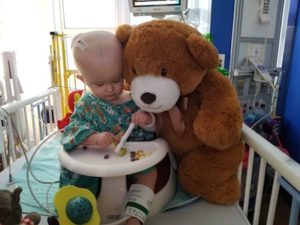 In 2017 my son was diagnosed with severe hydrocephalus. You know you're in deep shit when your son went in for an MRI and the head of pediatric neurosurgery takes you to a small room to explain the situation: a large mass of fluid in the middle of your son's head. And he's barely 8 months old. He was taken to surgery the next morning to implant a small catheter into his brain.
Almost a year later and he's progressing faster than expected, even after two additional brain surgeries. He's doing great with physical therapy and you'd never be able to tell what he's been through by looking at him. He just can't play football. And no boxing. Other than that he should grow up as any normal kid would.
Until this happened, my wife and I had no idea what hydrocephalus was, nor now common it was. Nor how lethal it used to be in the US and still can be in remote parts of the world. We have my son taken care of, but help me and many others end this so no other infant has to go through what my son has gone through.  Donate to the Hydrocephalus Association where my wife and I will be walking to raise money for research.
Hydrocephalus Association is a qualified 501(c)(3).